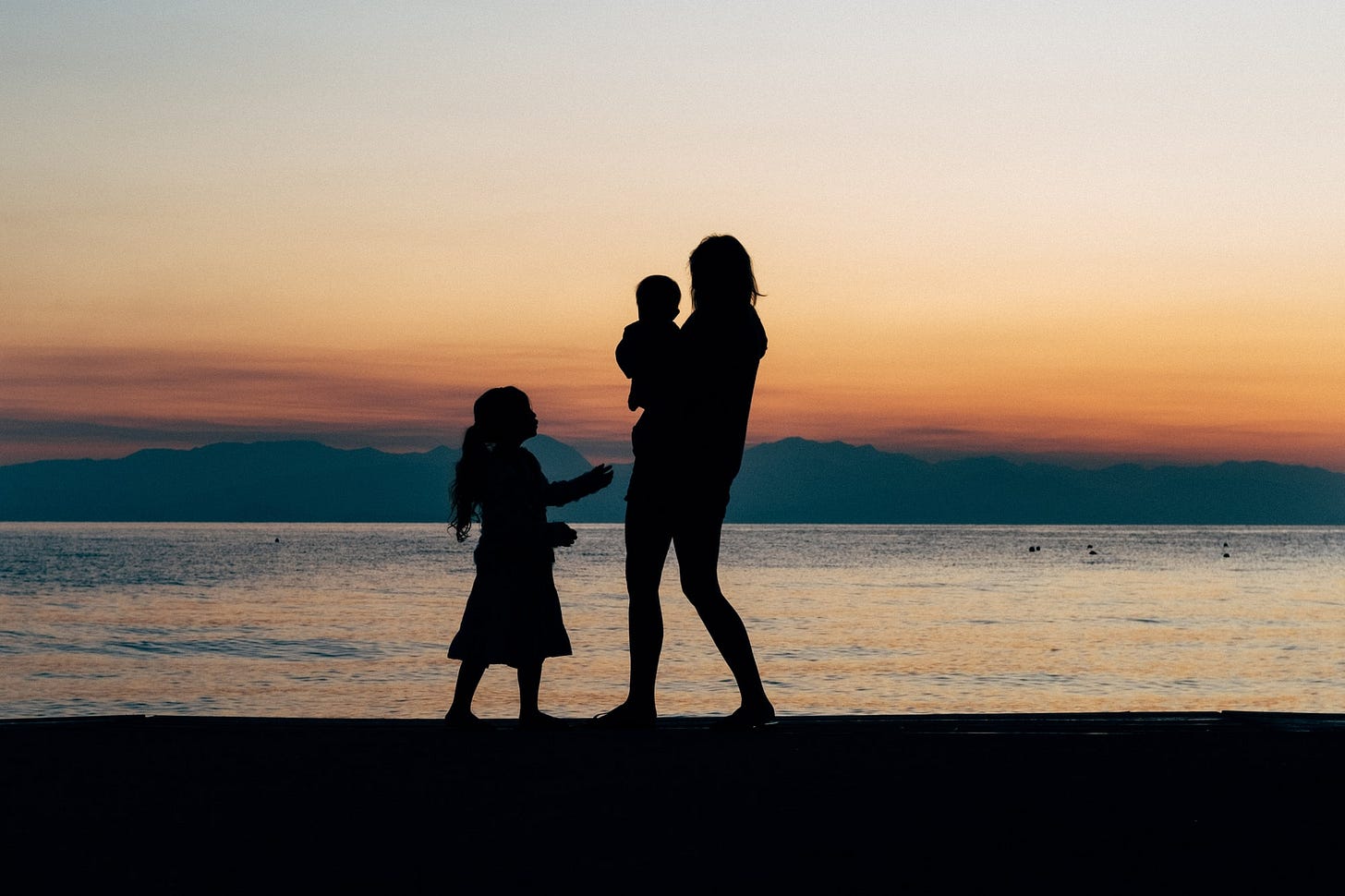 Jesus loves his disciples like a mother who loves – who adores – her children.
I think of this fierce mother love because of how Jesus mothers Peter in our Gospel reading. And I see this happening in three distinct moments:
The moment Jesus does the impossible

The moment Jesus saves

The moment Jesus teaches
Immediately preceding today's story is the story we heard last week, Jesus feeding the 5,000. A recap, in case you missed it:
Jesus tries to be alone, to pray and, presumably, to grieve the death of his cousin, John the Baptist, but he cannot get time to himself because the crowds of people following him keep pressing in. They are hungry, they are hurting, they are suffering, and they are coming to him with their every need.
Last week we explored the way that these crowds are like crowds of people crying out for justice. And God's response to those cries, seen in Jesus, is to give the people what they need.
The disciples try to rationalize not giving food to the people, but Jesus has nothing of it. Jesus feeds them because they're hungry.
Today's Gospel begins once the meal has ended. Jesus shushes off the disciples so that he can send away the crowds and then Jesus, the tired mother who has been working to get a break – a single moment to rest, and pray, and mourn over her losses, and regroup – this Jesus retreats for some time alone.
I cannot tell you how many mothers I have spoken to in the past several months who have been struggling to be miracle workers for their children, their spouses or partners, their employers and families. Parents of all genders are struggling right now.
And when the disciples, the children of God, are together in the boat that Jesus has put them in, drifting toward the storm, Jesus isn't anywhere to be found. At least, not until after having his rest.
(Take note, parents. Jesus rests.)
This brings us to the first moment of mothering from Jesus.
Freshly rested from his time alone on the mountain, Jesus is ready to respond to the cries of his children. He goes to them, walking on the water.
Think about that.
Just a few hours before he was feeding the masses and now he is defying physics. That is how committed he is to loving his followers.
And they don't know that it's him. They are afraid and they think that the one who has come to save them is actually there to harm them.
This is also true of every one of us who thinks that the God who loves us is actually hellbent on condemning us.
"It is a ghost," they cry out in fear. But Mother Jesus is calm, and says, "Sweetie, you're ok. It's me."
Or in our translation today, "It is I," but in other translations it more accurately reads, "I AM", which is the way that God announces Godself in Exodus 3:14 when God says to Moses, "I AM WHO I AM."
Don't be afraid, because I AM. I am the one who made you and – ultimately – I am the one who saves you.
Peter isn't totally convinced, and he barters with Jesus the way that children negotiate with their parents: "If it's you, command me to come to you on the water." Or in other words, If you love me, prove it.
And so Jesus does. And Peter shares in that love... until he doesn't.
This brings us to our second moment of mothering from Jesus,
which I live to think of as Jesus' Subaru moment.
You see, when I was a kid back in the early 1980's, my mom used to drive a Subaru. She drove it to her job at the local news network. She drove it to drop me off at my grandma's house, where I spent most of my time. And she drove it to church each week, with me in the passenger seat and the Sunday morning Beatles marathon on the radio.
We would sing harmony in her Subaru at the top of our lungs.
Love, love me do…You know I love you...
And every so often, somebody driving in front of us would slam on their brakes, and when they did my mom did a thing that I think many moms do: She extended her arm and put out her hand and laid it across my chest, as if to create a barrier between me and whatever harm might be coming my way. Her arm pushed me back into my seat, as if she possessed the strength to shield my body and save my life.
And she did this so fast. I wouldn't become aware of the braking car in front of us by the sight of it, but by the feeling of my mom's protective hand. That's how fast she was. She didn't hesitate.
And that is how I imagine Jesus saving Peter:
Arm extended. Hand reaching out. Saving his beloved child. And not hesitating. Jesus does not hesitate to save Peter.
God does not hesitate to love God's children.
Us.
Now we are at our third moment of mothering from Jesus, which is when Jesus teaches Peter.
Jesus looks at Peter's panic-stricken face, and says, "You of little faith, why did you doubt?"
I like to think of the first part of this question as a term of endearment. Certainly we could read it as a condemnation, but why? We don't have to. Imagine "you of little faith" as a nickname a mom might use, like Silly Head or Squishy Face.
Silly Head, why did you doubt?
The question is an invitation, in love, to genuine self-reflection. It's asked with the same love that compelled Jesus to do the impossible and then reach out his saving arm.
Why did you doubt, my love. I am here. I am here because I love you something fierce.
_______

"Everyone who calls on the name of the Lord shall be saved," Paul says. It doesn't matter who you are or how unique your identity may be.
The God who made you is the God who will save you.
There are many ways to think about God. And today, I invite you to think about God
as a mother who continues to love even when loving seems impossible…
or a mother who saves her children without hesitation…
or a mother who, like the best teachers, is genuinely curious about and invested in the lives of her children.
Because when we look at Mother Jesus, that is the God we see.
Amen.
Photo by dylan nolte on Unsplash